Photo credit: Karim Saafir Photography
Arts and Culture is the backbone of our movement and march towards FREEDOM! LA CAN's newest organizing committee features incredible artists from in and around the LA area…all of whom have a deep passion for community and social justice. The art we create is keenly focused on bringing attention to the work we do in community. 
The Freedom Singers represent the musical wing of arts and culture at LA CAN, comprised of members of the Skid Row community. This powerful ensemble breathes new life into the music and traditional sounds of our movements. The Freedom Singers ensemble is a signature statement about arts and culture at LA CAN and provides a platform to shift some of the negative narratives that skid row residents face. This dynamic ensemble is sure to bring the house down!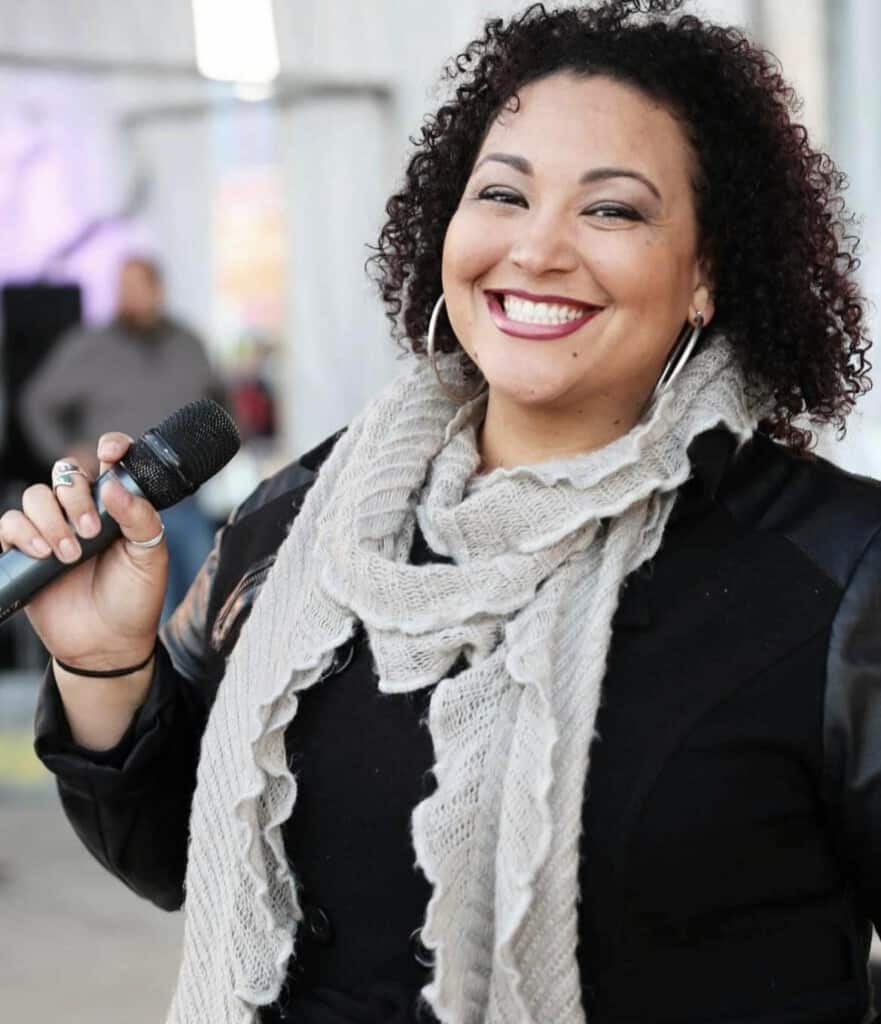 Micayla De Ette is a passionate LA based-classically trained, singer-songwriter, worship leader, actress, director, playwright, model, vocal coach, & the founder & C.E.O. of De Ette Dream Productions.
She received her degree in music ministries leadership from Bethany University and sings several genres of music, including Gospel, Contemporary, Jazz, Pop, Opera, Rhythm & Blues, and Rock.
Micayla has served as worship pastor and creative arts director at local churches in Santa Cruz and Los Angeles over the past 15 years. In addition to being the music director & vocal coach of the Freedom Singers, a performance advocacy group fighting houselessness, and  made up of individuals from the Skid Row community in downtown LA, she also currently sings at churches across the US sharing her passion for God and His unconditional love through music.
She wrote and produced several songs that appear in the feature film "Hold On" and its accompanying soundtrack, which had a limited theatrical release in 2019, and is set to be released on streaming platforms in the fall. The film, which is inspired by her real-life experiences, serves as Micayla's feature length acting debut as a lead. 
The full soundtrack including the film's title track, "Hold On, it's available now on all digital platforms. 
Comprised mostly of Skid Row community members, the LA CAN Band has become one of the most sought after bands when it comes to the proliferation and arrangement of Movement Music. Founded in the Summer of 2019, this troupe is ever-expanding and covers songs from a very diverse range of the Afrikan Diaspora, including, but not limited to Classical, Pop/Rock, R&B, Gospel, Reggae, Blues, Jazz and original music. 
To learn more about Arts & Culture at LA CAN. Email moniquen@cangress.org