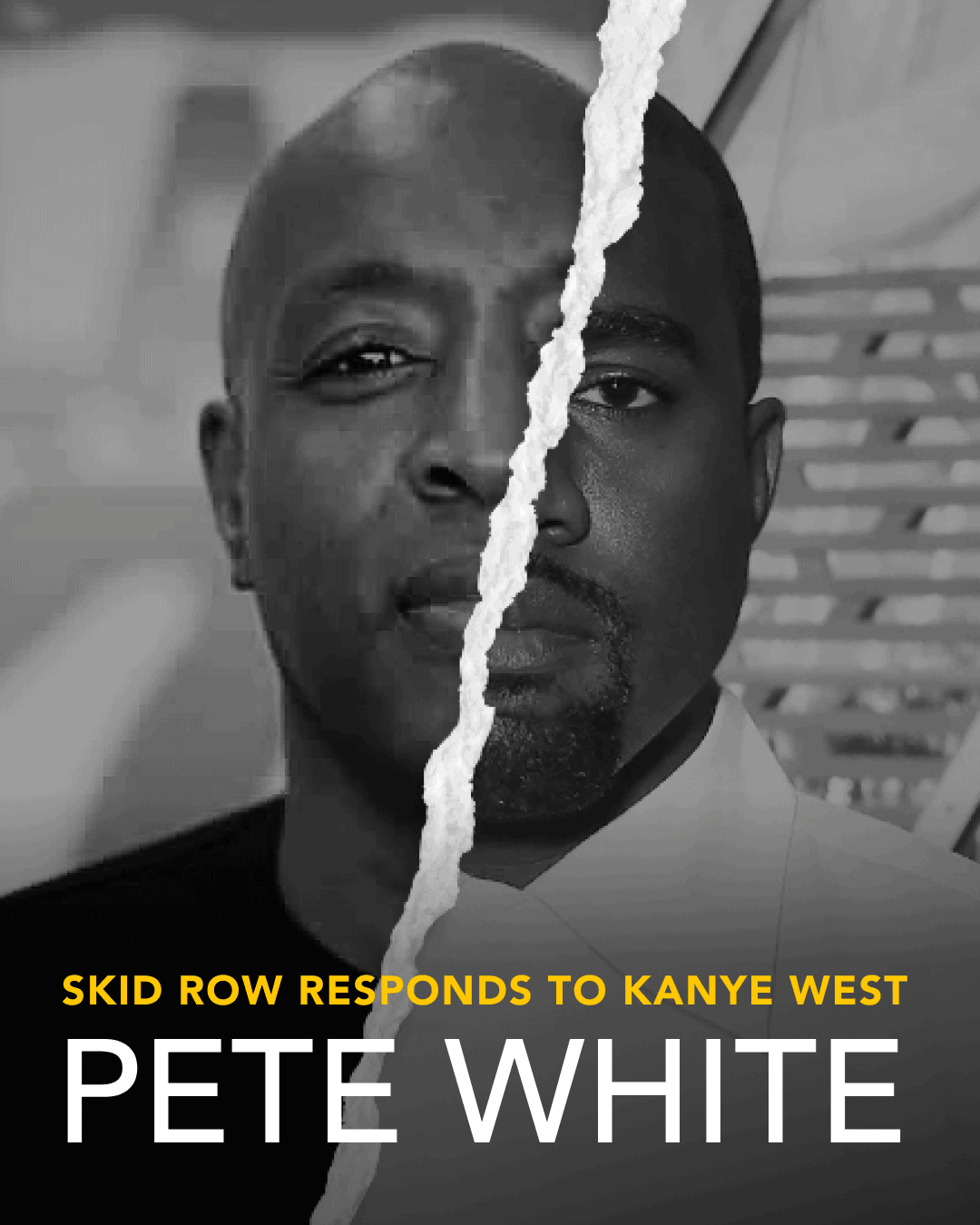 Ye hits new low with personally delivered hateful message to Black residents in Skid Row: Skid Row Responds
Kanyè came to the most economically deprived and abandoned corner of LA to dump his trash and tell a community of unhoused and marginally housed, as well as heavily-policed, Black people that White Lives Matter. Skid Row residents may not have the burgeoning bank book Ye holds but they have love for Black people, dignity and enough sense to run his WLM propagandist, littering crew, out.
Kanyè, Yè, or whatever you're calling yourself today, please keep your uninformed, misguided, attention-seeking rhetoric and actions out of our community. We are incensed that you continue to make a mockery and political prop of Black Angelenos—you should know better. In other words, keep Skid Row out of your mouth!
Nowhere in this country does Black Lives Matter less than in Skid Row. In 1976 Skid Row was created as a containment zone to ensure housing and services for poor, predominantly Black Angelenos were sealed off from the rest of Los Angeles. In other words, a place to hide the violent outcomes of racialized segregation, redlining, racial covenants, de-industrialization, welfare reform, the introduction and devastation caused by crack cocaine, and the building of the world's largest prison industrial complex to cage Black bodies. A place where no expectation of human rights, dignity, and respect was fully warranted.
The community, by state design, was meant to be a refugee camp or open-air carceral destination used to insinuate "personal choice" while evading structural and systemic responsibility. Amidst long-standing organized abandonment and, more recently, gentrification by largely well-heeled white people, leading to our banishment by death (1 in 5 houseless deaths per day), criminalization, or legislation like 41.18 an ordinance used to make illegal the act of existing while Black and houseless in Los Angeles. There is no more prominent example of white lives mattering at all costs at the expense of their Black neighbors.
Skid Row is a contemporary version of the "Tale of Two Cities," playing out in real time, with borders erected by brute force and militarization and a more subtle surveillance infrastructure used to create what we've coined the "Dirty Divide." Where the response to Black lives is lip-service, death and banishment, while white lives receive services, housing, and opportunity.
Amidst the sustained attempt to erase Black Skid Row, we're still here. As our ancestors had to do, we've made the best out of absolutely nothing and have built a community like none other in Los Angeles. A place where arts and culture seed the resistance; where community creatively resource and prioritize health and wellness checks for the apparent gaps that come with organized abandonment; where power building and community organizing have exacted victories, led by Black people, that have made the entire city better; where Black women hold healing circles for Black women; and where our love for Black people can be lifted for all to see. Yes, Black Lives Matter here!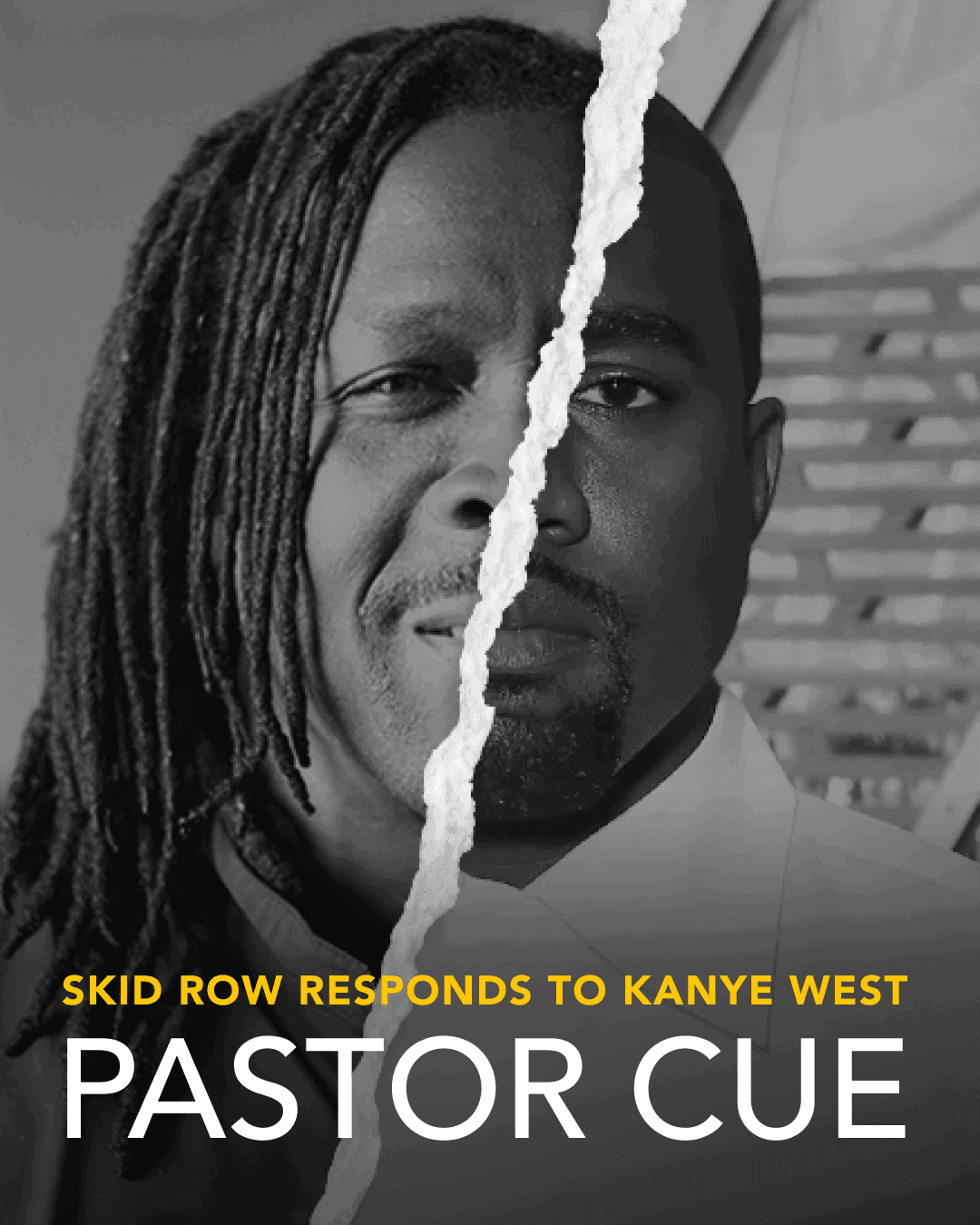 Hear Ye, Hear me: STAY OUT OF SKID ROW.
As a man of faith, I've been serving 
the Skid Row community for many years, 
more than 16 to be precise. I've watched 
the houseless population at least double during that time. As the epicenter of marginalization — in a country known to marginalize, criminalize and tokenize black people — Skid Row often becomes the backdrop for faux-morality-based grifters 
like Kanye West.


Many come to clear their conscience by dropping off a meal or two or by posting themselves on YouTube being "generous to the homeless." But it deeply offends those 
of us who are in community with our houseless neighbors all the time, those of us who recognize them as friends, family, and neighbors, and those of us who have to mourn losing five houseless folks per day.


As the literal black face of capitalism and white supremacy, Kanye has consistently been exploited by those in his orbit, who play to his larger-than-life ego by propping him up as a "genius" while simultaneously allowing his most self-destructive tendencies, outrageous behavior, and dangerous, ill-informed rhetoric to go unchecked and unchallenged — wholly 
to his detriment.


I don't owe Kanye that privilege, but I will 
offer some truth and perspective…


In recent years we've had celebrities 
and so-called "people of faith" coming 
to Skid Row and using houseless folks and 
the sensationalized narrative of homelessness to push their agendas, claiming they are 
doing "God's will" or "God's work." But all they've done is add insult to injury by exploiting the community's vulnerability. 
Juxtaposed against Kanye's larger-than-life celebrity status are folks who are often moment-to-moment or hand-to-mouth.


This fierce dichotomy allows for major damage to the community. And it forces already burdened black and brown folks to essentially choose whether or not to be agents of their demise. How? By offering the option 
to ascribe to, or even consider, the racist, patriarchal, and toxic narratives (deeply rooted in capitalism) espoused so eagerly and openly by a man who has known only privilege and has black skin.


The circular and cyclical nature of this 
type of exploitation is equal parts sickening and maddening.


The Bible tells us: Blessed are those who mourn for they shall be comforted: is George Floyd's family being comforted by Kanye's words or actions?


Blessed are the peacemakers: is Kanye promoting peace by weaponizing White Lives Matter t-shirts in a space where even the most eager participants decide based on scarcity? Imagine choosing between needing clothing and actively promoting a political trope you disagree 
with — or worse, flat-out lack the privilege 
to recognize or care about.

Blessed are the meek at heart, for they shall inherit the earth: I don't have to judge Kanye's "humility" to make this point, but a compassionate person doesn't have to make 
a spectacle of so-called acts of compassion. They also don't bring political or social consequences to those already burdened by life.
For a man who has enough money to single-handedly house half of Skid Row's Black folks for LIFE and still has millions in the bank, he chose to pass out politically charged t-shirts instead. We didn't need the shirt, Kanye. That's proof that white lives matter to you. 
And your black brothers and sisters do not.